Daily Message
Date and Times given in Eastern Standard Time

14 Tuesday October 17th - Moon enters Libra 1:36 PM
A year of optimistically creating or involving one's self in relationships has just past. Many of these relationships will be challenged and there will be those relationships which are now understood to be not functional, or it may now be concluded that the relationship was not what one initially hoped for. Of course there will those relationships which will be sustained. Relationships will carry on because the individuals involved moved beyond the initial infatuation, they mutually took their companionship to the next level. Public reputation and feeling socially significant have been major issues for many during this time, and will remain in the future for some time yet. Beliefs related to these concerns may have had to been looked at. The coming new Moon in Libra will bring forward the beliefs related to reliance on another. Ideally the individual will understand their partner or companion is a reflection of themselves in some way. An ability to pay attention to one's energy level in relation to a partnership dynamic can bring much clarity as to why they are in a particular relationship. One's ability to independently go after things they want can be related to quality of harmony and acceptance in a partnership.
New Message Begins October 19 2017 3:13 PM
The Daily Message is taken from the current PathfinderReport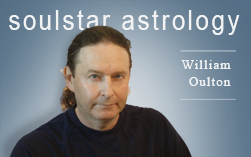 Astrologer * William Oulton
Current Date and Time

Next New Moon
1 Days, 0 Hours, and 58 Minutes.